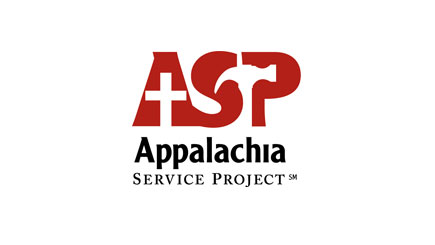 Appalachia Service Project (ASP)
Making Homes Warmer, Safer, Drier, Transforming Lives
2021 will mark Good Samaritan's 42nd year of participation in ASP. The need in the Appalachia area has not diminished and neither has our commitment to serving the wonderful people in that area.
According to the

ASP website

, "each year 15,000 volunteers repair 500 homes in 28 rural Appalachian communities." Projects can include roofing, flooring, shoring up foundations, digging drainage ditches, making rooms or homes wheel-chair accessible, or other projects that help make homes warmer, safer, and drier. In addition to building and improving homes, ASP is also a relational ministry for both the families we serve as well as those serving.
This ministry is about lifting the spirits of Appalachian families and reminding them that God's love knows no boundaries. In the process of putting your faith in action, God acts in your heart. And when you change the lives of others, they have a way of changing you.
All students who have completed the 9th grade or higher are invited to serve with families in Central Appalachia.  Students who are not members of or otherwise affiliated with Good Samaritan church are also invited to participate in the ASP trip.  Bring a friend.
For more information contact Mike Hutson at BMHUTS@GMAIL.COM or Jan Russell at JAN@GOOD.ORG.
---
Trip Information
2021 will be Good Samaritan's 42nd year serving at ASP.
Dates: June 12-20, 2021
Cost: $400
ASP 2021 theme: TBD
ASP 2021 destination: TBD
To register for the trip:

Either:

Complete the online registration form at [link to be added] by January 10, 2021 or
Fill out the paper registration form at [link to be added] and send it to the church office by January 10, 2021.

Also complete the form for ASP fee payments at [link to be added] and attach your $50/person deposit. Send it to the church office by January 10, 2021.
Medical Information
Immunizations – Up-to-date immunization for tetanus is required for all participants.

Hepatitis A immunization is strongly recommended.  Plan ahead because Hepatitis A requires two shots 6 months apart.
Important dates – Your participation in all applicable events is crucial to the success of the trip.
June 11, 2021: Departure meeting, 6:00pm. Drop off your gear for the trip at the church. For all participants
June 12, 2021: Depart for ASP – Arrive at the church no later than 4:55am. Load the bus and depart by 5:30am.
June 20, 2021: Return from ASP and join the church worship service.
Watch for upcoming information about dates for other ASP events leading up to the ASP 2021 trip.
Departure Preparation
ASP's Required Reading for All Participants – What must I know before going to ASP?
New to ASP or need an inspiring refresher? – Below are some suggestions for familiarizing yourself with the ASP experience.
Visit the ASP web site.
Read the "required reading" documents (see above).
Watch the ASP Training Videos for group leaders. This set of 6 short videos provides a good overview of various aspects of the ASP trip. Additional videos are on the ASP web page for Ambassadors, including more at ASP's YouTube page.
Scan the ASP Construction Manual, the how-to guide for the types of projects encountered at ASP. If you'd rather look through a printed copy, contact Jack Washam (c.jack.washam@gmail.com, 612-237-8482).
Watch instruction videos about ASP construction techniques at ASP's YouTube page.
Read ASP's Frequently Asked Questions (bottom of the page).
For all adult group leaders: Attend the adult participant meetings, held in the spring just before the trip, where you can ask questions and learn about the trip from all the other adults who are going to ASP.
Questions? If you have any questions about ASP 2021, contact Mike Hutson at BMHUTS@GMAIL.COM or Jan Russell at JAN@GOOD.ORG"
Join Our Reconciling United Methodist Church
Join Good Samaritan in Edina for inclusive and inspiring faith! If you'd like to visit our LGBTQIA-Friendly Methodist church today, contact us to schedule a tour. We look forward to welcoming you into our vibrant and compassion community today!