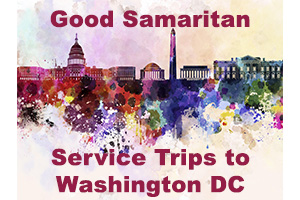 Service Trips to Washington DC
Two options (tentative dates): Aug 14-18, 2020 and Oct 14-18, 2020
Washington DC is a city of great contrast. It is both our nation's capital and a city with much poverty and homelessness. We will visit many of our nation's historic sites while also volunteering with organizations in DC that work to alleviate poverty year round.
Contact: Heather@good.org
Most importantly, we will meet with various people living and working in DC to educate ourselves about the issues facing those in the city and to highlight their values and strengths. We will learn about the nature of poverty and think critically about engaging in relationships that cross cultures. All trip participants will need to attend an interactive training that introduces the basic concepts of service, relationships and poverty.
All welcome but due to service projects, most appropriate for kids ages 9 and up.
Each trip is a minimum of 7 people and a max of 12 people. Youth ages 12 and up can attend without a parent present. Please talk directly with Heather about this option!
Cost is approximately $550/adult, $450 for kids through age 12. Final price will be confirmed once bookings are made. Lodging (Airbnb), meals, transportation and tours marked "included" on the final itinerary are included in the price. Airfare is not included but I am happy to help organize this.
Informational Meetings offered 2/9/2020 from 11:15 – 12:15 in the youth rooms and 2/5 from 6 – 7pm in the Fireside Room. If you are interested and can't make these meetings, please contact heather@good.org for a time to meet.
To reserve your spot, a NON-REFUNDABLE deposit of $200/person is required. Checks made out to Good Samaritan UMC. To put the trip on a credit card, contact heather@good.org and additional fees will apply. Please note which dates you would like to travel – August or October.
Fundraiser options will be discussed at the meetings.
Join Our Reconciling United Methodist Church
Join Good Samaritan in Edina for inclusive and inspiring faith! If you'd like to visit our LGBTQIA-Friendly Methodist church today, contact us to schedule a tour. We look forward to welcoming you into our vibrant and compassion community today!