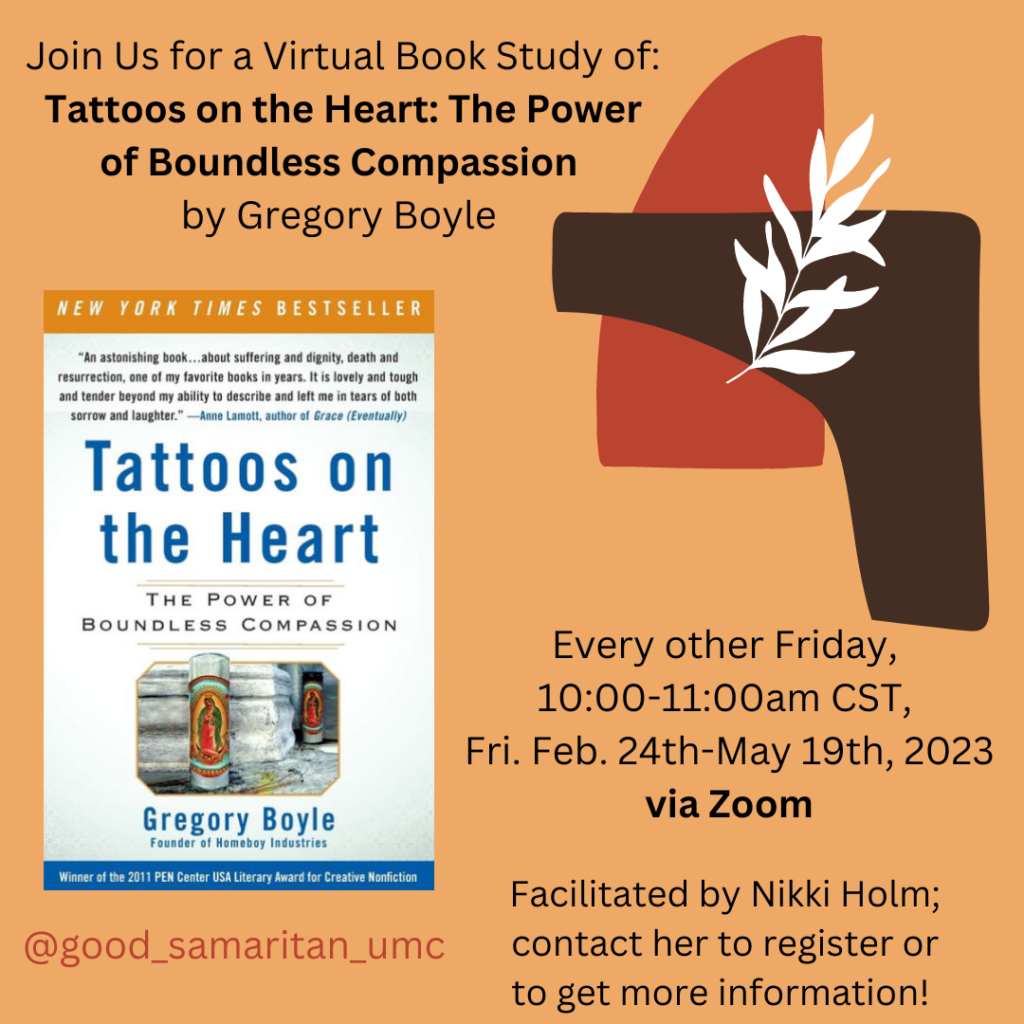 Spring Study: Tattoos on the Heart
Zoom Gathering, 10am, Every other Friday beginning Feb 24-May 19.
"How do you fight despair and learn to meet the world with a loving heart? How do you overcome shame? Stay faithful in spite of failure? No matter where people live or what their circumstances may be, everyone needs boundless, restorative love. Gorgeous and uplifting, Tattoos on the Heart amply demonstrates the impact unconditional love can have on your life. (from the book's inside front flap)"
Come explore with us the deep compassion shared by Fr. Gregory Boyle through his Homeboy Industries. This 2010 book is one of Nikki's favorites; something to return to for inspiration again and again. Whether you are one of our local members, are wintering down south, social distancing at home, avoiding MN winter driving, or participating in our community from out-of-state, all are welcome.
Once again, we will be meeting over Zoom from 10:00-11:00am, CST every other Friday starting February 24th thru May 19th, 2023.
Zoom information is as follows:
https://us06web.zoom.us/j/86768411536?pwd=TzA5M2Izd3RIbnh2ek5kaXFJcUkzZz09  Meeting ID: 867 6841 1536, Passcode: compassion
Note: Plan to purchase your book in advance in order to read the Preface and Introduction prior to our first gathering; if you have difficulty obtaining the book, please let Nikki know. Contact Nikki to register: nikki@good.org or 952-452-9396.
Join Our Reconciling United Methodist Church
Join Good Samaritan in Edina for inclusive and inspiring faith! If you'd like to visit our LGBTQIA-Friendly Methodist church today, contact us to schedule a tour. We look forward to welcoming you into our vibrant and compassion community today!