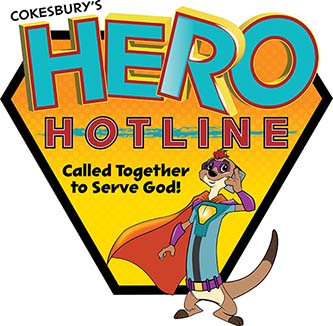 Vacation Bible School (VBS)
4 day VBS

June 26-29, 2023
9am – 4pm
Participants: Age 3 to Grade 4
Grade 5 thru adults
Encouraged to Volunteer!
Price $55 per child or
$100 per family
Scholarships available
Ready for some fun with the ultimate hero team? Hero Hotline VBS invites children to answer the call to serve God together. Join the Professor and Super Meer as young Heroes learn to strive for the things that bring peace and the things that build each other up. This VBS opens kids' eyes to the countless ways God provides for Bible Heroes through teams of supporting Bible Heroes who help make the mission possible through following Jesus, Helping Others, Working Together, Listening to God, and Showing Grace. Bring a friend, reconnect with your friends, and make new friends, too! Hennepin Ave UMC will be our co-hosts as we move our VBS outdoors and explore all of the outdoor space that Good Sam has to offer! This adventure is for kids ages 3 years-4th grade. We welcome kids 5th grade and older as Youth Leaders, and we need Adults Helpers, too! Participants will need a water bottle and a sack lunch. Cost for VBS is $55 for 1 child -$100 for a family . Scholarships available.
Join Our Reconciling United Methodist Church
Join Good Samaritan in Edina for inclusive and inspiring faith! If you'd like to visit our LGBTQIA-Friendly Methodist church today, contact us to schedule a tour. We look forward to welcoming you into our vibrant and compassion community today!