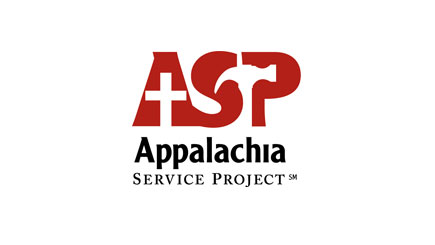 Appalachia Service Project (ASP)
Making Homes Warmer, Safer, Drier, Transforming Lives
The Good Samaritan ASP planning committee has decided not to send a mission team to work in Appalachia during the summer of 2022. A lot of advance work and personal commitment is necessary to plan and carry through a successful trip. At this time, we do not feel that Good Samaritan can commit to the trip with sufficient certainty that the Covid-19 virus will not remain a significant risk for our volunteers this coming summer. While the ASP organization is doing everything it can to provide safe work environments and reduce the risks associated with Covid-19, there are still concerns for the health of our volunteers. Contracting Covid while so far from home would present significant difficulties for the affected volunteer(s) as well as others on
the trip, the resident ASP staff, and the families we serve. It's a risk that we don't feel comfortable taking right now.
Good Samaritan has worked at ASP for 42 years. The need in the Appalachia area has not diminished and neither has our commitment to serving the wonderful people in that area. We certainly hope that summer 2023 will see no significant reason for concerns about Covid-19 and we can once again resume our mission trips to Appalachia to work for ASP. We have greatly missed both being able to give our youth this opportunity and serving those in need in Appalachia. We want to return as soon as possible.
The remainder of this page contains information about the Good Samaritan ASP mission trip in general.
According to the

ASP website

, "each year 15,000 volunteers repair 500 homes in 28 rural Appalachian communities." Projects can include roofing, flooring, shoring up foundations, digging drainage ditches, making rooms or homes wheel-chair accessible, or other projects that help make homes warmer, safer, and drier. In addition to building and improving homes, ASP is also a relational ministry for both the families we serve as well as those serving.
This ministry is about lifting the spirits of Appalachian families and reminding them that God's love knows no boundaries. In the process of putting your faith in action, God acts in your heart. And when you change the lives of others, they have a way of changing you.
All students who have completed the 9th grade or higher are invited to serve with families in Central Appalachia. Students who are not members of or otherwise affiliated with Good Samaritan church are also invited to participate in the ASP trip. Bring a friend.
For more information contact Mike Hutson at BMHUTS@GMAIL.COM or Jan Russell at JAN@GOOD.ORG.
---
Medical Information
Immunizations – Up-to-date immunization for tetanus is required for all participants.

Hepatitis A immunization is strongly recommended. Plan ahead because Hepatitis A requires two shots 6 months apart.
Parents of youth participants: If requested, adult ASP leaders can assist with ensuring that your youth takes medications on schedule while on the ASP trip.
ASP's Required Reading for All Participants – What must I know before going to ASP?
All ASP volunteers must read the ASP Required Reading for All Volunteers. This document contains important information about:
ASP Mission, Vision & Guiding Principles
ASP Rules and Regulations
ASP 3 S's
ASP Safety Manual
ASP COVID-19 Protocols
ASP COVID-19 Self Screening Tool
Optional reading and viewing – Check out our ASP Reading and Viewing Suggestions to discover additional background material about the area of Appalachia where Good Samaritan serves at ASP.
New to ASP or need an inspiring refresher? – Below are some suggestions for familiarizing yourself with the ASP experience.
Visit the ASP web site.
Read the "required reading" documents (see above).
Sample the "optional reading and viewing" resources (see above).
Watch some of the many educational and inspirational videos on ASP'S YOUTUBE PAGE.
Learn about the ASP experience in the playlists of ASP TOPICAL VIDEOS. Hear from homeowners in the "Why ASP" videos. Learn about group leader responsibilities in the "Group Leader Training Videos". Pick up construction tips and learn about specific projects in the instructional "Construction Training Videos".
Scan the ASP CONSTRUCTION MANUAL, the how-to guide for the types of projects encountered at ASP. If you'd rather look through a printed copy, contact Jack Washam (c.jack.washam@gmail.com, 612-237-8482).
For all adult group leaders: Attend the adult participant meetings, held in the spring just before the trip, where you can ask questions and learn about the trip from all the other adults who are going to ASP.
Curious about what happens each day at ASP? See the TYPICAL ASP DAILY SCHEDULE.
View the presentation about the ASP PROGRAM AT GOOD SAMARITAN.
Questions? If you have any questions about ASP 2022, contact Mike Hutson at BMHUTS@GMAIL.COM or Jan Russell at JAN@GOOD.ORG
Join Our Reconciling United Methodist Church
Join Good Samaritan in Edina for inclusive and inspiring faith! If you'd like to visit our LGBTQIA-Friendly Methodist church today, contact us to schedule a tour. We look forward to welcoming you into our vibrant and compassion community today!