---
Current Good Samaritan News
---
Sunday School Volunteers Needed
Consider sharing God's love with our youngest church-goers. Our Children, Youth and Family Ministries is looking for volunteers to help teach Sunday School this fall. The commitment is one Sunday a month. You will receive the lesson plan on Wednesday before your Sunday class. Let Jan know if you are willing to help – jan@good.org or 952-452-9398.
---
Music Rehearsals Begin
Jump in to the Chancel Chimes and the Chancel Choir as rehearsals resume tonight. Chancel Chimes practice from 6:00-7:15pm, and Chancel Choir from 7:00-9:00pm. Both groups are fun and a great way to join in ministry together. Contact kate@good.org for Chancel Chimes, and paolo@good.org for Chancel Choir.
---
UMCOR – Maui
Wildfires on the island of Maui in Hawaii have prompted evacuations and caused significant loss of life and widespread damage. UMCOR is coordinating with the California-Pacific Annual Conference to process a solidarity grant for emergency supplies. As first responders continue to provide initial aid in the area, please join UMCOR in prayer for those affected. Gifts can be made in the following ways:
Online at https://advance.umcmission.org/p-620-umcor-us-disaster-response-and-recovery.aspx – (Choose "USDR-Hawaii Relief" from the drop-down menu)
By toll-free telephone call: 1-888-252-6174
By check made out to Global Ministries/UMCOR with "Advance #901670-Hawaii" written on the memo line and mailed to Global Ministries/UMCOR, GPO, P.O. Box 9068, New York, NY, 10087-9068
By check made out to Good Sam UMC with "UMCOR – Maui" on the memo line
Website: https://umcmission.org/umcor-us-latest-responses/
---
Sponsor Students in Baiwalla
The Missions Team invites you to support students at the Ormsby School in Baiwalla, Sierra Leone with a one-time donation or ongoing sponsorship. See the August edition of The Samaritan newsletter for a full article on how Minnesota Methodists are contributing to the success of these students. Sponsorships cover the cost of school fees and/or lunches for this coming school year.
Annual school fees are $310 per student. Lunches and snacks for a year are $150. Sponsorships can be made recurring by having them automatically renewed each year. There are two options for payment:
Pay by credit card online: Go to the OC Ministries website at www.ocministriesmn.org and click on the DONATE button. Scroll down to "Sierra Leone: School Child Sponsorship" and make a donation to support Ormsby School student school fees and/or lunches. Your credit card payment is the fastest for them.
Pay by check: Send a check made out to Minnesota Annual Conference. Put in the memo line: Richard Ormsby child sponsorship and/or food, or general funds. Mail it to:
Minnesota Annual Conference
Rm. 400, 122 W. Franklin Ave.
Minneapolis MN 55404
Please consider making a recurring donation to ensure continued support!
---
Mdewakanton Dakota Center
After all we've been learning about the many indigenous peoples from this summer's worship series on our national parks, here's a recommendation: visit the new Hoċokata Ti's 3,805-square-foot public exhibit, called Mdewakanton: Dwellers of the Spirit Lake in Shakopee – just 20 minutes from Good Sam. Go inside a real teepee and learn where they stored their food and clothes! Great for kids and adults and it only cost $5-$8. This interactive exhibit will teach you about Native American ways so you'll have a better understanding of the people who first lived on this land. Then maybe have a meal at Mystic Lake, or Little Six, a mile away. For more information, check out their website https://hocokatati.org/  or call Pat Deckas Becerra at 952-929-1428.
---
Meals on Wheels Volunteering
If you can fit an hour and a half into your schedule, please volunteer to deliver 4-6 meals to needy seniors once or twice a month. They really need more people, besides the ones that Vicki Dunn so ably organizes for Good Sam for the third and fifth Fridays of the month. It is so easy to be a personal and valuable lifeline to these appreciative folks for whom you might be the only person they see all day! Contact Joanne, 612-990-5398 or resmow@outlook.com.
---
Good Samaritan Foundation Challenge
Thirty years of giving is something to celebrate! The Good Samaritan Foundation has been doing just that since 1993. Do you remember that The Foundation Board of Directors has put forth a 30th-anniversary challenge of raising $30,000 in 2023? We're very pleased to let you know that we are a little more than one-third of the way there with donations totaling $11,320.
We've also received a matching grant of up to $10,000 to help us on the way to the remaining amount needed for our 30th-anniversary goal. So, from this point forward during our 30th-anniversary year, any additional contributions to The Foundation up to $10,000 will be matched dollar for dollar by this matching grant. All contributions, big and small, will help us reach our full matching grant potential. Thank you for your help!
Donations to the Evergreen Fund help support our operating budget. Donations to the Cornerstone Fund support maintenance of our building and grounds, and donations to the Outreach Fund support those in need locally, nationally, and globally. Pick up a Foundation brochure on the Welcome Table in the narthex or the table outside the Church Office to learn more. And to contribute, indicate which Foundation Fund you wish to support on the memo line of your check, or give securely online at https://good.org/give/give/the-foundation/.
---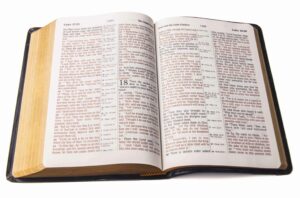 Read the Bible in a Year
Download a guide for reading through the Bible in a year. A few weeks ago Pastor Carol issued a challenge inviting us to read the Bible through in 2023, and she hopes you'll join her in giving this a try.
---

Good Samaritan is officially on Instagram. Please follow us @good_sam_umc ! Here, we hope to offer brief, inspiring reflections, mindful reminders, and invitations towards deeper spirit-alignment.