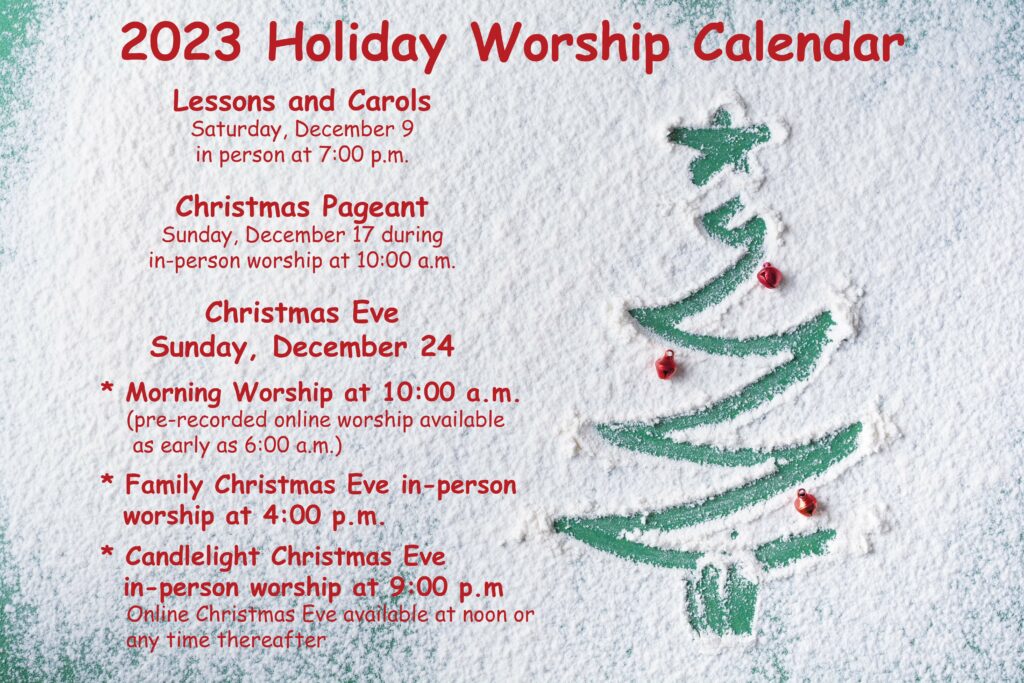 ---
Lessons and Carols
The Festival of Lessons and Carols is a service of Scripture and song that dates to the late 19th century. It includes nine readings of scripture along with beautiful music to celebrate the Christmas story. Join us in the Sanctuary on Saturday, December 9, 7:00pm for this beautiful evening of music from our musical groups – Chancel Chimes, Chancel Choir, and Homeward Bound band. We will collect an offering to support the music program at Good Sam.
---
STEP Toy Drive through Sunday
We have been collecting toys for STEP (St. Louis Park Emergency Program) for the past several weeks. Our collection of new, unwrapped toys continues through this Sunday, December 10. Please leave donations for children infants through 8 years old under the Christmas tree in the Sanctuary or by the church office. Target gift cards in amounts from $5 to $25 are being collected as well. Contact Jan at jan@good.org with questions.
---
Thursday Afternoon Book Group Luncheon
Our Holiday Luncheon will be Thursday, December 14 at 12:30pm (note earlier start time). Please bring a dish to share (appetizer, salad, etc.) and a favorite Christmas reading. Contact Vicki Dunn with questions - victoria.dunn@q.com.
---
Children's Choir Rehearsals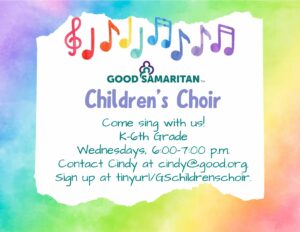 It's not too late to join the Children's Project Choir rehearsing on Wednesday evenings, including tonight. K-6th graders meet from 6:00-7:00 p.m. in the Children's Choir Room 155 in the Music Wing on the lower level. Enter Door 3 from the lower parking lot.
We will prepare for singing at the Family Christmas Eve Worship at 4:00 p.m. All are welcome! Sign up here. Contact Cindy Bergstrom at cindy@good.org with questions. We look forward to singing with you!
---
ASP Mission Trip Information Night
Good Sam will be hosting an Appalachia Service Project trip this coming summer. We will have an information meeting at church on Wednesday, January 10 at 7:00 p.m. in Fellowship Hall. This will be our 43rd trip! Any youth aged 15-18, college students, and young adults are invited to join us. Parents of youth are certainly invited as well. The number of churches sending groups on ASP has significantly dropped since the pandemic, so they really need our help. Please consider being part of this amazing experience. If you or your family can't go, perhaps you can pass our information on to someone else. Anyone interested can join us; Good Sam or other church affiliation is not necessary. The cost of the trip will be $500 per person and we have scholarships available. Go to https://good.org/event/appalachia-service-project-asp/ for more information on our Good Samaritan ASP webpage.
---
Pickleball at Good Sam
If you are an experienced pickleball player, you are welcome to join the players in the Good Samaritan Gym during any of the following sessions:
Mondays – 3:30-5:00 p.m.
Thursdays – 3:30-5:00 p.m.
Saturdays – 10:00 a.m.-12:00 p.m.
Bring your own paddle. Balls are provided. Contact Robin Strangis with questions - rstrangis12@gmail.com
---
Friday Breakfast
Our Friday Breakfast Group meets at 8:30 a.m. on the first and third Fridays of each month at Jerry's Foods (5125 Vernon Ave, Edina) for good breakfast and conversation. This is a great opportunity for you to come and bring a friend. Contact Kent Holmes or Brian Boysen with questions.
---
Sunday School Volunteers Needed
Consider sharing God's love with our youngest church-goers. Our Children, Youth and Family Ministries is looking for volunteers to help teach Sunday School this fall. The commitment is one Sunday a month. You will receive the lesson plan on Wednesday before your Sunday class. Let Jan know if you are willing to help – jan@good.org or 952-452-9398.
---
Meals on Wheels Volunteering
If you can fit an hour and a half into your schedule, please volunteer to deliver 4-6 meals to needy seniors once or twice a month. They really need more people, besides the ones that Vicki Dunn so ably organizes for Good Sam for the third and fifth Fridays of the month. It is so easy to be a personal and valuable lifeline to these appreciative folks for whom you might be the only person they see all day! Contact Joanne, 612-990-5398 or resmow@outlook.com.
---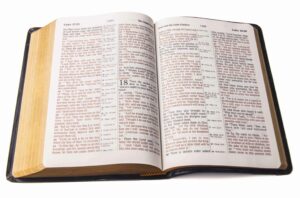 Read the Bible in a Year
Download a guide for reading through the Bible in a year. A few weeks ago Pastor Carol issued a challenge inviting us to read the Bible through in 2023, and she hopes you'll join her in giving this a try.
---

Good Samaritan is officially on Instagram. Please follow us @good_sam_umc ! Here, we hope to offer brief, inspiring reflections, mindful reminders, and invitations towards deeper spirit-alignment.