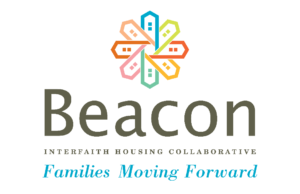 Beacon – Families Moving Forward – 66 West
Beacon Interfaith Housing Collaborative is a partnership of over 80 congregations who seek to end homelessness in our area through the Families Moving Forward shelter program, the creation of stable housing sites and through public advocacy.  View the Beacon Website.
Twice a year, for 7 days, we open our church home for four families for a total of up to 18 people in the Families Moving Forward program, enabling them to "feel at home" at Good Samaritan.
Volunteer Opportunities:
Fund and prepare dinner
Evening play host for the children
Overnight hosts which includes setting out breakfast
Set-up crew to prepare the church for the families
Take Down crew after the families leave
Good Samaritan Contacts:
Join Our Reconciling United Methodist Church
Join Good Samaritan in Edina for inclusive and inspiring faith! If you'd like to visit our LGBTQIA-Friendly Methodist church today, contact us to schedule a tour. We look forward to welcoming you into our vibrant and compassion community today!