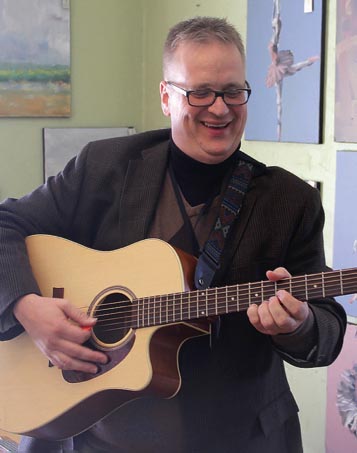 Coordinator of Worship Arts and Online Engagement
Christian provides online music, video, photography and audio support for churches.
Christian Nielsen has been providing church music, memorial service music, interactive musical experiences for all ages in the Twin Cities Metro and surrounding areas for 30 years. He has been providing hospice music therapy, as a board certified music therapist (MT-BC) in the Southwest Metro and rural areas for 20 years. He is a graduate of the Augsburg University Music Therapy program and did his extended music therapy internship training at Park Nicollet Hospice, Methodist Hospital, and Struther's Parkinson's center.
As the son of a United Methodist Minister, our own retired affiliate member, Larry Neilsen, a church musician since age 10, and one who has studied the role of music in the spirituality of many faith traditions, Christian has always felt that music is one of the greatest expressions of our shared humanity, and one of our best vehicles for connecting to the divine. Christian has performed and led music in churches of nearly every denomination, including faiths beyond Christianity.
Christian is attending United Theological Seminary in the fall as a student in the Theology and the Arts Program.